---
Employer consultant in Tehran metro line 6: civil, equipment, rolling stock and operation
Behro Consulting Engineers, as employer consultant in civil, equipment, Rolling Stock and operation engineering, plays a key role in leading and supervising this project.
Project Description:
This line starts from Dolatabad area in the southeast of Tehran and after passing Azadegan highway, Kianshahr area and Besat highway, reaches 17 Shahrivar Street. It Continues on 17 Shahrivar Street, passing through Shoush Street, Khorasan Square, Mahallati Highway and Shohada Square, will be connected to Imam Hossein Square. Then it reaches Sepah Square, Bahar Shiraz, Haft_Tir, Vali-asr Sq., Laleh Park. Then changes direction to the north and passes through Kargar Street, Nasr (Gisha), Azmayesh Bridge, Marzdaran Boulevard, Yadegar Imam, Ashrafi Esfahani, Payambar Street and after crossing Hakim, Sattari, Kashani and Hemmat Highways enters Kuhsar Street and lead to Kan town in northwest of Tehran.
Constructing southern extension of this line with 6 km length, 4 stations and 5 ventilators and emergency stairs that start from Dolatabad area and lead to the eastern side of Abdolazim Hassani holy shrine; This line will have 38 km long and 31 stations, making it the longest subway line in West Asia (Middle East).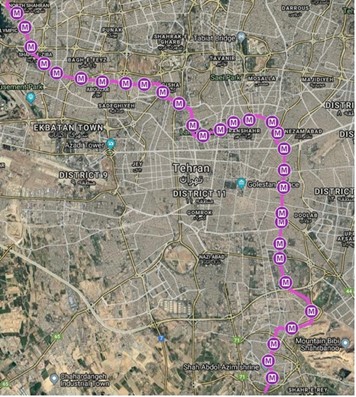 Key Features:
| | |
| --- | --- |
| Item | Value |
| Length | 38 km |
| No. of Stations | 31 |
| No. of Tunnel Ventilators & Emergency Exits | 30 |
| No. of HVS substations | 3 |
| Parking and Depots | 2 |
| Platform Length | 140 m |
| Platform Width | 4 m |
| Station Width | 14 m |
| Capacity (PPHPD) | 45000 |
| Headway | 2 min |
| Tunnel Length (Mechanized Method) | 17 km |
| Tunnel Length (NATM Method) | 21 km |
Stations Characteristics
| | | | |
| --- | --- | --- | --- |
| Code | Station Name | Location | Status |
| A6-4 | Haram-e Hazrat-e Abdol Azim | South of Abdolazim Hassani holy shrine | Under Construction |
| A6-3 | Meydan-e Hazrat-e Abdol Azim | Hazrat-e Abdol Azim square | Under Construction |
| A6-2 | Ebn-e Babviyeh | Ebn-e Babviyeh | Under Construction |
| A6-1 | Cheshmeh Ali | Siman boulevard | Under Construction |
| A6 | Dowlat Abad | Dowlat Abad town | Being Operated |
| B6 | Kiyan Shahr | Between Salehi and Ali Ebrahimi streets, Kiyan Shahr | Under Construction |
| C6W8 | Be'sat | Be'sat highway | Being Operated |
| D6 | Shahid Rezaei | Next to 17 Shahrivar and Mansoor intersection | Under Construction |
| E6 | Meydan-e Khorasan | Khorasan square | Under Construction |
| F6G7 | Shohada-ye Hefdah-e Shahrivar | 17 Shahrivar and Ghiam intersection | Under Construction |
| G6 | Amir Kabir | 17 Shahrivar and Amin Hozoor intersection | Being Operated |
| M4H6 | Meydan-e Shohada | Shohada square | Being Operated |
| Q2I6 | Emam Hossein | Emam Hossein square | Being Operated |
| J6 | Sarbaz | Sayyad Shirazi highway | Under Construction |
| K6 | Bahar Shiraz | Bahar Shiraz and Shariati intersection | Under Construction |
| M1L6 | Shohada-ye Haftom-e Tir | Haftom-e Tir square | Under Construction |
| M6 | Shahid Nejatollahi | Karim Khan-e Zand and Nejatollahi intersection | Under Construction |
| K3N6 | Meydan-e Hazrat-e Valiasr | Valiasr square | Under Construction |
| O6 | Boostan-e Laleh (Laleh Park) | Laleh park | Under Construction |
| P6 | Karegar | Fatemi and north Kargar intersection | Under Construction |
| Q6T7 | Daneshgah-e Tarbiat Modarres (Tarbiat Modarres University) | Chamran and Jalal-e Al-e Ahmad intersection | Under Construction |
| R6 | Shahrak-e Azmayesh | Traffic park | Being Operated |
| S6 | Marzdaran | Marzdaran boulevard | Under Construction |
| T6 | Yadegar-e Emam | Yadegar-e Emam and Marzdaran intersection | Under Construction |
| U6E8 | Shahid Ashrafi Esfahani | Marzdaran and Ashrafi Esfahani intersection | Under Construction |
| V6 | Shahid Sattari | Sattari and Payambar intersection | Under Construction |
| W6-A4-7 | Ayatollah Kashani | 200 Dastgah street, Kashani highway | Under Construction |
| X6 | Shahr-e Ziba | Kanoon square | Under Construction |
| Y6B9 | Shahran | Hemmat highway | Under Construction |
| Z6 | Shohada-ye Kan | Abshenasan highway | Under Construction |
| Z6-1 | Kouhsar | OPG town | Under Construction |