---
Official operation of Towhid station, line 7 of Tehran metro
Official opening of Towhid station in Tehran metro line 7 is another service of Behro consulting engineers in metro network of Tehran and metropolises of the country in the field of rail and road transportation. This station was officially put into operation and made available to the public on Wednesday, January 22nd, in the presence of a large number of officials related to the metro and the municipality of Tehran.
General Specification of Towhid station
This Station (R7) is 15th station of Tehran Metro Line 7 (respectively from the beginning of the line) and located in mileage 15+000 of Tehran Metro Line 7, which due to its intersection with Tehran Metro Line 4 (E4 station) and its special geographical location, It will be strategic and important station in the passenger capacity of Tehran metro network.
This station (R7) is located at the intersection of Azadi Street and Nawab Safavi Highway and adjacent to Towhid Tunnel, which is in a very important and effective position in terms of urban and traffic due to its location in the four districts of 2, 6, 10 and 11 of Tehran Municipality.
Location of Towhid station in Tehran metro line 7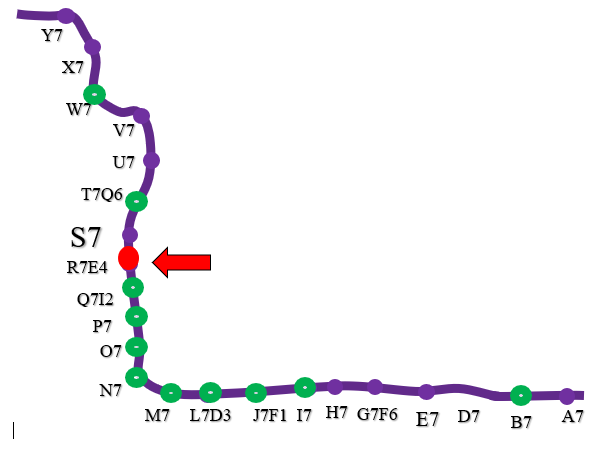 The depth of Towhid station is 46 meters on average from the ground level to the level below the foundation and it is one of the deepest stations of Tehran metro line 7. Total length of this station is 160 meters, of which 100 meters is executed by underground method and 60 meters by Top Down method. It should be noted that in the first phase of operation of this station, which is in January of this year; with the maximum use of domestic products in order to support the country's manufacturing industries, equipment will be completed, installed and commissioned. This station will be operated using line 4 ticket hall and through communication galleries. In the second phase, ticket hall and the separate entrance of the station will be constructed and put into operation. It is worth mentioning that 16 escalators will be installed in this station, 11 of which will be put into operation at the same time as the initial operation of the station.
Key Features
Platform Length: 160 m

Station depth: 46 m

Area: about 25,000 m2 including TOD spaces (7500 m2 in initial operation)

Number of entrances: 2 (in initial operation, line 4 entrance will be used)

Number of escalators: 16 (11 of which will be installed in initial operation)

Number of elevators: 4 (no elevator in initial operation)

Construction Method: Rib & Top Down method (100m by Rib method and 60m by Open Cut method using Top Down method)

Number of ventilators: 3 (2 in tunnel and 1 in station)
BOQ
Cut: 60,000 m3

Reinforcement: 3,800 tones

Concrete: 31,200 m3
Stone work: 6,000 m2
Special Features:
Intersection with Tehran Metro Line 4

Access to important administrative, commercial and medical centers

Adjacent to the Towhid tunnel

Located at one of the busiest intersections in Tehran

Facilitate area traffic and access to other metro lines

Located at intersection of four districts of Tehran Municipality

The fourth deep station of Tehran metro line 7

Difficulty of executive operations due to low execution space

Execution of structure by Top Down method