---
Official operation of Modafean Salamat station, line 7 of Tehran metro
The official opening of the of Modafean Salamat (Bagher Khan) station in Tehran metro line 7, is another outstanding and effective engineering service of Behro Consulting Engineers in the Tehran and other Iran's metropolises metro network.
Modafean Salamat (S7) station is on Tehran metro line 7 and in the area of Chamran highway (toward north) after Tohid Square, one of the most populated areas of Tehran. Location of this station next to Imam Khomeini Hospital, the clinic and Tehran University of Medical Sciences, the area of Sattar Khan Street, Modafean Salamat Street, Chamran Highway, Nawab Highway and Tohid Tunnel includes a wide range of passengers. It is also important to note that this station is located in the border of Tehran traffic limited zone and allows passengers to use the subway to travel to their destination within the limited zone.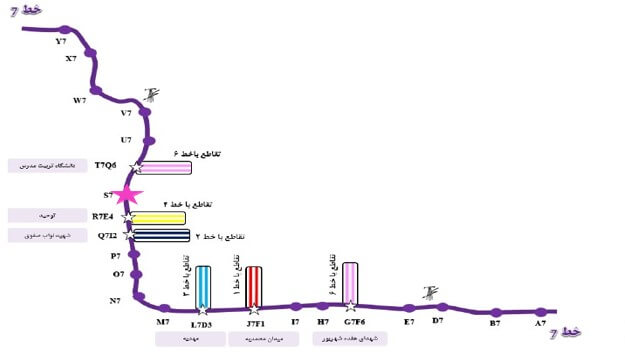 Depth of this station is 49 meters and it is one of the deepest stations of Line 7, which is located near the abovementioned important centers and help all citizens and medical staff and people with disabilities to use public transport and easy access to the city's medical centers and also efforts have been made to provide and operate all the necessary facilities and equipment, including 4 elevators, 28 escalators, access ramps for the disabled and a special route for the blind people at this station.
It should be mentioned that first phase of operation of this station is in June 2021 and at the same time with the opening of the station, the following spaces will be put into operation:
One entrance (southwest entrance located in Sattar Khan Street)

3 ventilators (2 in tunnel and 1 in station)

2 scape stairs (northeast and northwest)

12 escalators and 2 elevators

Special paths for the disabled and blind passengers
Some special equipment and other facilities of this station will be completed and put into operation at the same time as the opening of this station are tunnel and station air conditioning system, water fire extinguishing system, telecommunication system, video surveillance and the station's substation.
It is worth mentioning that in order to support national production and accelerate the supply of parts in this station, domestic products including escalator equipment, elevators, air conditioning fans, etc. are used.
At the request of manager of the Passive Defense Organization and in order to transport potential casualties and other existing uses in an emergency, direct access route to the hospital by subway, including ramps and related tunnels, has been provided in accordance with the technical standards in this station;
Key Features of modafean salamat station
Platform Length: 160 m

Construction Method: Rib (Russian) method

Area: about 11,400 m2

Station depth: 46 m from top of rail and 49 m from beneath of foundation

No. of entrances: 3 including Sattar khan, Imam Khomeini hospital and nursing college entrances

Total Number of escalators: 28

Total Number of elevators for disabled passengers: 4
BOQ
Cut: more than 82,000 m3

Reinforcement: more than 5,900 tones

Concrete formwork: more than 21,000 m2
Concrete: more than 76,000 m3
Stone work: 10,520 m2