---
Behro Consulting Engineers, as project MC in all aspects of supply, installation and commissioning of equipment and facilities, has played a key role in leading and supervising of the project.
Behro's services in electrical and mechanical systems in this project include trains, power supply systems, signaling, telecommunications, control and ventilation for stations and tunnels, BAS, FAS, FES, as well as depot and parking equipment.
Project Description
Tehran Metro Line 3 is about 37 km long including 28 stations, single tunnel, which entire route is being operated underground. This line starts from the Artesh highway in the northeast of Tehran with Ghaem station and passes through Babaei, Imam Ali, Sayyad Shirazi, Majidiyeh area, Shahid Beheshti and Vali-e-Asr streets and continues to Rah-Ahan Square. Then it goes to Javadiyeh and Qaleh Morghi streets and after passing Abdolabad and Nematabad area, it ends in Azadegan station.
The line includes 4 intersection stations with lines 1, 4, 6 and 7 and one depot and parking lot in the south part near Azadegan station. A parking lot with a capacity of 6 trains is also planned in the northern part near Ghaem station.
Construction of waiting hall in Vali-e-Asr station, which is one of the most beautiful stations in terms of architecture and execution, and variety in construction (using three methods of mechanized, traditional and open trench excavation) are among the specific features of this line.
The capacity (PPHPD) of this line is 45,000 with a headway of two minutes. The main rail is UIC 54, switches are 1:7 using same rail with radius of 150-190 m and third rail is steel-aluminum with capacity of 4500 Amp.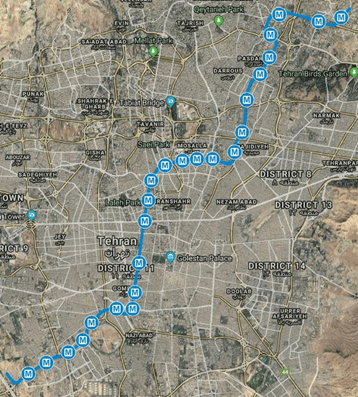 Project Specificatio
| | |
| --- | --- |
| Item | Description |
| Length | 37 km |
| No. of stations | 28 (underground) |
| No. of ventilators and emergency exits | 30 |
| No. of HVS | 3 |
| No. of depot and parking | 2 |
| PPHPD | 45000 |
| Headway | 2 minutes |
| Intersection with other lines | 4 intersections (with 1, 4, 6 & 7) |
Stations Characteristics
| | | | |
| --- | --- | --- | --- |
| Code | Name | Location | Status |
| A3-3 | Azadegan | Saeidi highway, next to Heydari street | Being Operated |
| A3-2 | Ne'mat Abad | Saeidi highway, next to Kholazir street | Being Operated |
| A3-1 | Abdol Abad | Cheraghi highway, next to Varzeh street | Being Operated |
| A3 | Shahrak-e Shari'ati | Cheraghi highway, next to Mehran street | Being Operated |
| B3 | Zam Zam | Cheraghi highway, next to Ghal'e Morghi and Zam Zam streets | Being Operated |
| B3-1 | Javadiyeh | next to Robat Karim square and Javadiyeh bridge | Being Operated |
| C3 | Rahahan | Rahahan square | Being Operated |
| D3L7 | Mahdiyeh | Valiasr – Mowlavi intersection | Being Operated |
| F3 | Moniriyeh | Moniriyeh square | Being Operated |
| G3 | --- | Valiasr – Imam Khomeini intersection | Being Operated |
| I3G4 | Teatr-e Shahr | Valiasr junction | Being Operated |
| K3N6 | Meydan-e ValiAsr | Valiasr square | Being Operated |
| L3 | Meydan-e Jahad | Valiasr – Fatemi intersection | Being Operated |
| M3 | Mirzaye Shirazi | Beheshti street, between Mirzaye Shirazi and Qaem Maqam-e-Farahani intersections | Being Operated |
| O1N3 | Shahid Beheshti | Beheshti – North Mofatteh junction | Being Operated |
| O3 | Sohrevardi | Beheshti street, next to Sohrevardi junction | Being Operated |
| P3 | Shahid Ghoddoosi | Ghasr junction | Being Operated |
| Q3 | Shahid Sayyad-e Shirazi | Sayyad-e Shirazi highway, Masil Bakhtar intersection | Being Operated |
| R3 | Khajeh Abdollah-e Ansari | Bani Hashem - Khajeh Abdollah-e Ansari junction | Being Operated |
| S3 | Shahid Zeyn-o-ddin | Sayyad-e Shirazi - Zeyn-o-ddin intersection | Being Operated |
| T3 | Heravi | Heravi square, in front of Golestan hospital | Being Operated |
| U3 | Hossein Abad | Hossein Abad square | Being Operated |
| V3 | Nobonyad | Nobonyad square | Being Operated |
| W3 | Aghdasiyeh | Movahed-e Danesh street | Being Operated |
| X3 | Shahid Mahallati | Lashgarak highway – Artesh boulevard intersection | Being Operated |
| Y3 | Ghaem | Avval square, Ghaem town | Being Operated |
| W'3 | Park-e Niavaran | Niavaran park | In design stage |
| X'3 | Shahid Bahonar | Jamaran, Niavaran | Not Constructed |