---
In the summer of 2018, Behro and Rah-haye Talaee Alborz joint venture have been assigned for providing technical and engineering services and also basic and detail design of traffic, geometrical, infrastructure, technical structures, superstructure, station, depot and parking, signaling, power supply and other equipment required for Rasht tramway project.
Project Description
This line with an approximate length of 16 km starts from Maskan Mehr. It continues to Gil Square and then along Imam Boulevard, after Shahid Beheshti intersection, continues in Mosalla Square. Then it has another intersection with Azadegan-Parastar Street in Farhang Square. After Farhang Square in a straight line, the line first has an intersection with Hafez-Motahhari Boulevard and then along Imam Street, passing Dr. Heshmat Square reaches to Shahrdari Square.
It then continues from Shahrdari Square to the north along Alam al-Huda Street to Fathi Street and reaches Ansari Square along the northeast of Fathi Street. Then it continues along Ansari Boulevard to the northeast to the intersection with Deilman Boulevard in Namazi Square. The tram route from Ansari Square to the airport (as the end point of the route) is directly and along the southwest-northeast direction which reaches Valiasr Square and then along Valiasr Boulevard and Rasht - Anzali Road leads to Sardar Jangal Airport in the northeast of the city.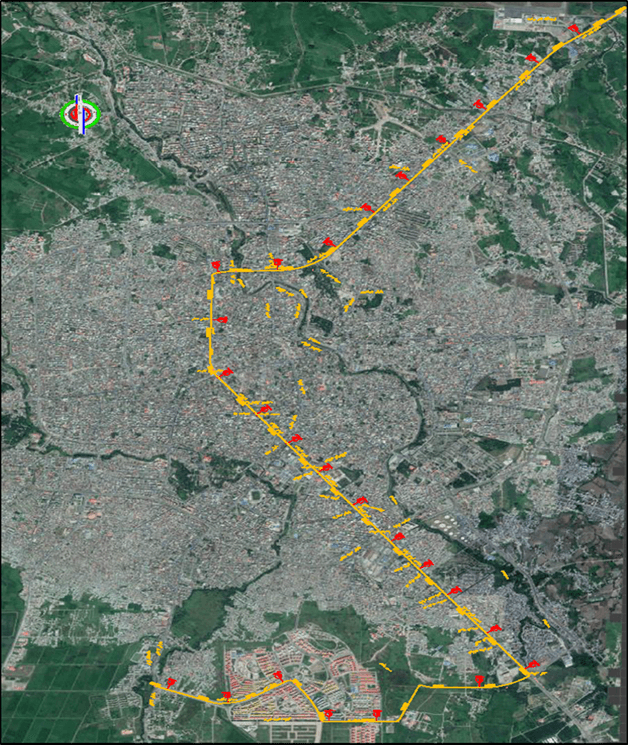 By now, 26 stations along the route have been considered in key points with the ability to attract passengers, which will be investigated according to additional studies, from the perspective of location and number.
Item

Value

Length

16 km (at grade)

No. of Stations

26

Maximum Gradient

20‰

Parking and Depots

1 Depot in Maskan Mehr area

1 Parking near to Rasht airport

Power Supply

OCS

Operation Speed

20 – 40 km/h

Station Platform length

50 m

Headway

4 min

Tram Length

44 m