---
Official operation of the second entrance of Meydan-e San'at station, line 7 of Tehran metro
meydan-e san'at station
This station is located in District 2 of Tehran at the intersection of Sheikh Fazlollah Nouri Highway from the south, Farahzadi and Khovardin Boulevards from the west and east (Shahrak-e Ghods area) and Pakenejad Boulevard from the north. This station is in operation since March 2018 with one entrance.
However, considering the need to open and operate the second entrance in each metro station in order to facilitate passenger's access and also to meet safety requirements, the second entrance of this station was on the agenda of Tehran metro for opening in February 2021.
Completing the second entrance, the volume of passengers of the station will increase and also the ease of passengers' access to the station on the north side of Sanat Square (at the beginning of Paknejad Boulevard) will be facilitated. Location of the station provides easy access of passengers in busy and dense area of Shahrak-e Ghods area, including Farahzadi, Khovardin and Paknejad boulevards to the central areas of Tehran, including the Grand Bazaar, south and east of Tehran and important service centers by connecting to operating metro lines 1, 2 and 3.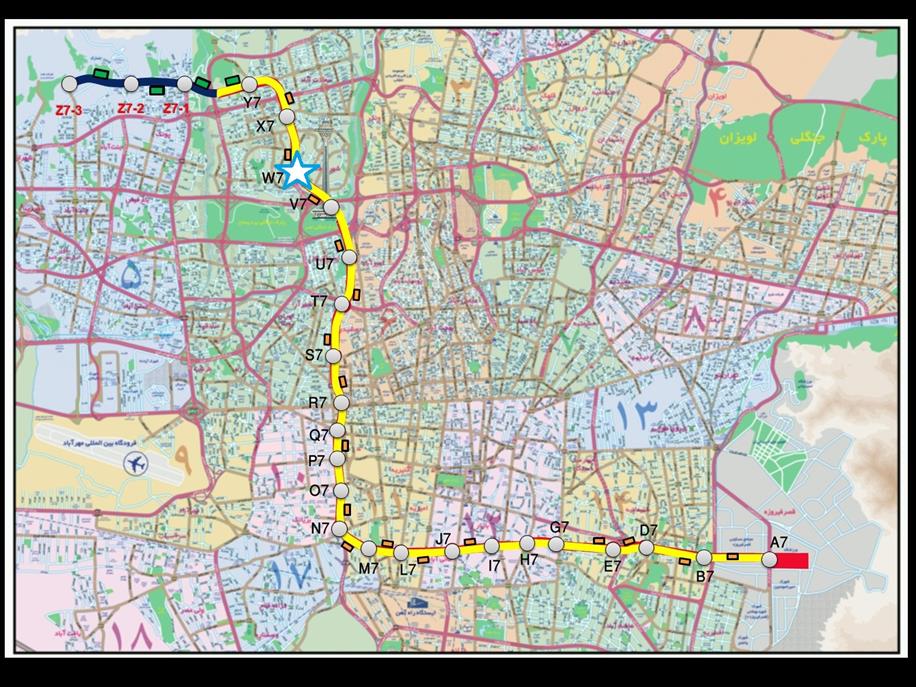 The average depth of this station is 23 meters and it is the twentieth station from the beginning of line 7.
For convenience of people with disabilities, at the same time as opening of northern entrance of the station, its escalators and special path for the blinds and additional operations of water extinguishing system will be put into operation.
By exploiting the northern entrance of this station, access to the commercial half floor built in the station space will be possible and the passengers will benefit from its future services.
Key Features
Platform Length: 160 m

Construction Method

Area: 17000 m2

Average depth: 23 m

No. of entrances: 2 (southwest and northwest)

No. of ventilators: 3 (1 in station and 2 in tunnel)

No. of escalators: 10 (6 in operation)

No. of elevators: 2 (in the installation stage)
BOQ
Excavation: 136000 m3

Reinforcement: 4000 tones

Concrete: 40000 m3

Stone work: 12000 m2
With the hope of continuing these successes, we would like to thank all the dear ones who have contributed to the creation of this beautiful station in Tehran from the very beginning, especially the hard-working team of Behro Consulting Engineers in Line 7.