---
Official operation of Dulab station, line 7 of Tehran metro
The official opening of the northeastern entrance of Dulab station in Tehran metro line 7, is another outstanding and effective engineering service of Behro Consulting Engineers in the Tehran and other Iran's metropolises metro network. This station was inaugurated and put into operation on thursday, March 4th.
Dulab (E7) station is the 129th opening station in all Tehran metro lines and the 13th opening station of Tehran metro line 7. This station is located in the area of Saeedi Square, Al-e Agha Street and next to the Imamzadeh Cheheltan. Considering the location of Dulab station, passenger's access to Tehran flower garden area will be facilitated. Also, the densely populated area of Saeedi Street and southern part of Mahallati Highway, which is affected by operation of this station, will benefit from the mass rail transportation network. Due to east-west route of Line 7 and its intersection with Imam Ali Highway at Dulab station, access to Imam Ali Highway is possible through this station.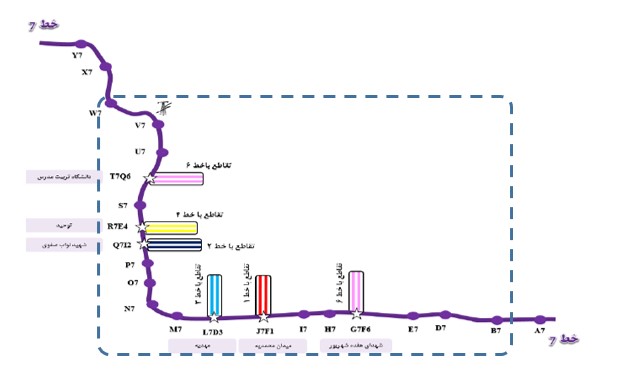 Dulab station is located at a depth of about 40 meters and is the fourth station from the beginning of Line 7. In order to facilitate physically disabled passengers, the elevators related to the entrance of the station along with its escalators will be put into operation at the same time as the opening of the station.
Some E&M equipment and other facilities will put into operation at the same time as the opening of this station; such as tunnel ventilation system, air conditioning of the station and office area, water fire extinguishing system, telecommunication system, video surveillance and station substations.
Dulab station area is about 10,000 m2, depth about 40 m, and in order to ensure the safety of passengers, north and southwest escape stairs of the station will be put into operation at the same time as the station opens.
Key Features
Platform Length: 160 m

Construction Method: Underground – Rib-Pile method

Area: about 10,000 m2

Station depth: 40 m

No. of entrances: 2

No. of active ventilators: 2 (1 in tunnel and 1 in station)

No. of ventilators to be installed: 1 in tunnel

No. of escalators to be installed: 10 escalators in first phase operation and 6 escalators in second phase operation (second entrance)




No. of elevators to be installed: 2 elevators in first phase operation and 2 elevators in second phase operation (second entrance)
BOQ
Excavation: 120,000 m3

Reinforcement: 6,000 tones

Concrete: 44,000 m3
Surface Finishing: 8,000 m2
Special works that have been done in the construction of this station:
Interaction with Imam Ali bridge piles

Instruments and monitoring of surface behavior of ground and structures