---
Official operation of Yadegar-e amam station, line 6 of Tehran metro
The official opening of the northeastern entrance of Yadegar-e emam station in Tehran metro line 6, is another outstanding and effective engineering service of Behro Consulting Engineers in the Tehran and other Iran's metropolises metro network. This station was inaugurated and put into operation on saturday, March 13th.
Yadegar-e Emam (T6) Station is the 20th station of Tehran Metro Line 6, which will be opened in the first phase of operation of Phase 2 of Line 6. This station is located in the area of Yadegar-e Imam Highway - next to Marzdaran Bridge in District 2 of Tehran Municipality.
Yadegar-e-Imam station is located in a busy and dense area of District 2 of Tehran Municipality and adjacent to Yadegar-e-Imam Highway, Marzdaran Boulevard and Farhangian town and by opening this station, the access of the western citizens of Tehran to the central and southeastern areas, including Tarbiat Modarres station on line 7, and access to the Tehran metro railway system, will be facilitated. With opening of this station and the demobilization of its workshop, Marzdaran Boulevard bypass will be available to the public.
General specifications of the station:
The station is located at a depth of about 30 m and in order to facilitate physically disabled passengers, the elevators related to the entrance of the station along with its escalators will be put into operation at the same time as the opening of the station.
In addition, the special equipment and other facilities of this station will be completed and put into operation at the same time as the opening of this station. The main equipment such as escalators, elevators, power supply systems of stations and railway lines, as well as tunnel and station ventilation are built inside country and are produced, installed and commissioned with the highest available standards. We can also mention the simultaneous operation of air conditioning system of station and office spaces, water fire extinguishing system, telecommunication system and the video surveillance of the station. Total area of this station is about 5,100 m2.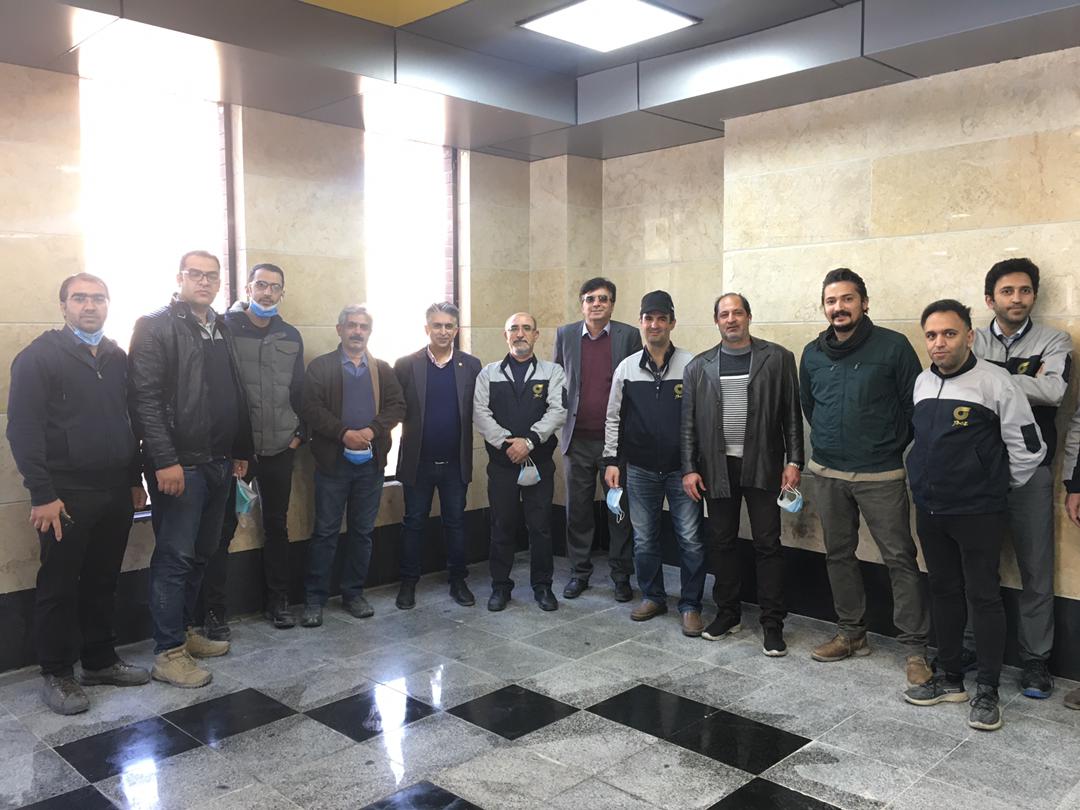 Key Features
Platform Length: 140 m

Construction Method: Underground - Rib method

Area: about 9900 m2

Station depth: 30 m

No. of entrances: 3

All active ventilators at the time of opening: 3 (2 in tunnel and 1 in station)

Cooling and heating system for office spaces: VRF

Number of escalators installed for opening: 6

Number of elevators installed for opening: 4
BOQ
Cut: 123,000 m3

Reinforcement: 4,760 tones

Concrete: 33,500 m3
Stone work: 5,100 m2
Special works that have been done in the construction of this station:
Vibration measurement and implementation of vibration absorbing pads in the vicinity of station and adjacent tunnels

Execution of station and related galleries near the long concrete bridge of Marzdaran Street / Yadegar-e Imam intersection

Design of 3 independent entrance for the station

Design of the longest passenger entrance gallery from the third entrance of the station with an approximate length of 100 m

Completing the Building Condition Survey (BCS) to provide evidence in case of damage and perform risk analysis of buildings adjacent to station such as concrete bridge and Basij buildings

Carrying out instrumentation and behavioral operations, including installing ground and building subsurface pins on the ground

Installing convergence pins inside station spaces and using instrumentation results to reduce execution risks.

Execution of consolidation operations with traditional injection methods and identification and filling of cavities with foam concrete