---
Official operation of Tarbiat modarres station, line6 of Tehran metro
The official opening of the of tarbiat-e modarres station in Tehran metro line 6, is another outstanding and effective engineering service of Behro Consulting Engineers in the Tehran and other Iran's metropolises metro network. This station was inaugurated and put into operation on saturday, March 16th.
Tarbiat Modares T7Q6 intersection station (intersection of line 6 and 7 of Tehran metrolines) is located at the intersection of Chamran Highway and Jalal Al-Ahmad Highway (Gisha underpass) and is a crowded area in Tehran. Line 7 station (T7) was put into operation in March 2019 and station (Q6) will be in the second phase of operation of line 6.
The station facilitates the access of citizens to Jalal Al-Ahmad Highway, Faculty of Management and Faculty of Psychology, Tehran University, etc., which includes a wide range of Tehran citizens. The important point is that Tarbiat Modarres station is located in the border of Tehran traffic limited zone and allows passengers to use the subway to travel to their destination within the limited zone.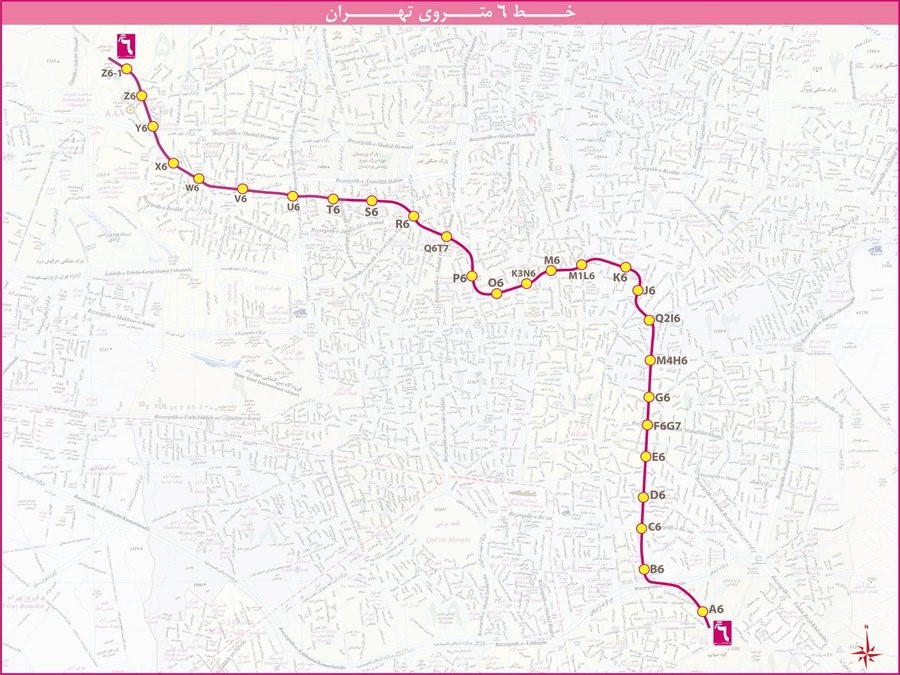 The depth of Tarbiat Modarres station is 34 m on line 7 and 22 m on line 6, which due to its proximity to the abovementioned centers and in order for all citizens to use public transportation, an effort has been made to open it with all the necessary facilities and equipment.
It is worth mentioning that in order to support national production and expedite the supply of parts in this station, domestic products including escalator, elevators, ventilators, etc. will be used.
General specifications:
The station is located at a depth of about 22 m and is the 17th station of Tehran Metro Line 6. In order to facilitate physically disabled passengers, the elevators related to the entrance of the station along with its escalators will be put into operation at the same time as the opening of the station. In addition, the special equipment and other facilities of this station will put into operation at the same time as the opening of this station.
The main equipment such as escalators, elevators, power supply systems of stations and railway lines, as well as tunnel and station ventilation has been manufactured inside country, installed and commissioned with the highest available standards. We can also mention the operation of air conditioning system of station and office spaces, water fire extinguishing system, telecommunication system and the video surveillance of the station.
Key Features
Platform Length: 140 m

Construction Method: Underground – Rib-Pile method

Area: about 10,500 m2

Station depth: 22 m

No. of active entrances: 2

All active ventilators at the time of opening: 3 (2 in tunnel and 1 in station)

No. of ventilators to be installed: -

Cooling and heating system for office spaces: VRF

Number of installed escalators: 10

Number of installed elevators: 2
BOQ
Excavation: 52,000 m3

Reinforcement: 2,451 tones

Concrete: 20,000 m3
Surface finishing: 2,400 m2
Special works in construction of the station:
Excavation several underground spaces adjacent to each other and controlling the interaction of structures

Excavation of Q6 station in the vicinity of the station and tunnel which are already being operated in line 7

Instrumentation and monitoring, including installing ground and building subsurface pins on the ground, convergence pins inside station spaces and using instrumentation results to reduce risks due to the interaction of multiple station spaces

Vibration measurement and implementation of vibration absorbing mats in the vicinity of station and adjacent tunnels